Your Basement is A Blank Slate
Basements have limitless potential for homeowners. From home offices to home theatres, from luxurious living spaces to fully legal suites, the only limit to what your basement can be is your imagination. At Peak Improvements, we specialize in bringing your visions into reality, working to produce results that enhance the quality of life through beautiful, functional spaces tailored to our clients' unique needs.
A Place for Family
In this recent project, our clients sought to convert their basement into a suite for extended family members. Priorities included a bright, open-concept design and accessibility features for persons with limited mobility. Additionally, our clients wanted to be able to use the space as a fully legal basement suite in the future.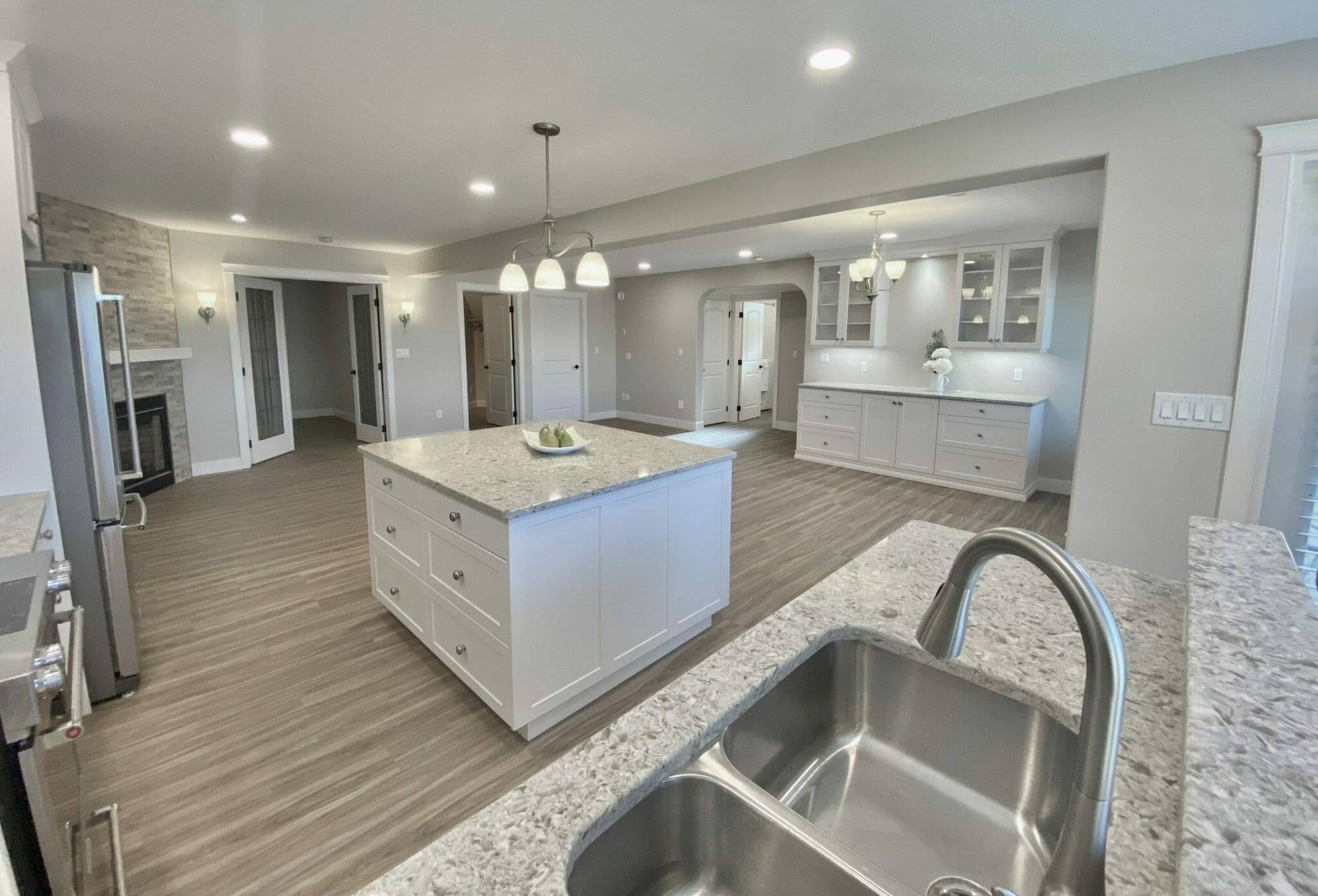 Spotlight Features
Our team of designers, contractors, and skilled tradespeople utilized our unique six-step process to transform our clients' basement into a lively, liveable space for their extended family, with features including:
Large, unobstructed windows for maximum natural light.
An open-concept living area complete with quartz countertops.
Stone-clad fireplace.
Buffet cabinets in an accessible modern kitchen.
A walk-in tub in the all-new bathroom.
The space is ready to become an income-generating, fully legal basement suite.
Unique Challenges
Every renovation is different, presenting a unique set of challenges to both clients and contractors before their vision can become a reality.
The basement's foundation was poured with in-floor radiant heating, restricting our ability to relocate existing plumbing lines. Nonetheless, our design and architecture team was able to create a beautiful, functional design within these limitations, successfully transforming the basement into a beautiful, functional living space.
The project's open-concept design also required the removal of a major 20-foot load-bearing wall. In order to maintain the home's structural integrity, a steel beam was installed in its place to provide the necessary support. As always, clear communication between contractors, tradespeople, and clients was essential to our success, allowing us to realize the basement's full potential without compromising the home itself.
Proudly Exceptional
Peak Improvements takes pride in ensuring that our renovations meet our clients' needs and enhances their quality of life for years to come. Our guaranteed price, no surprise contract means our customers never have to worry about unexpected costs, and ensures that their vision comes to life with no surprises along the way. Additionally, Peak Improvements is proud to offer a limited lifetime warranty on our workmanship and materials.